India, Pakistan commit to Kartarpur corridor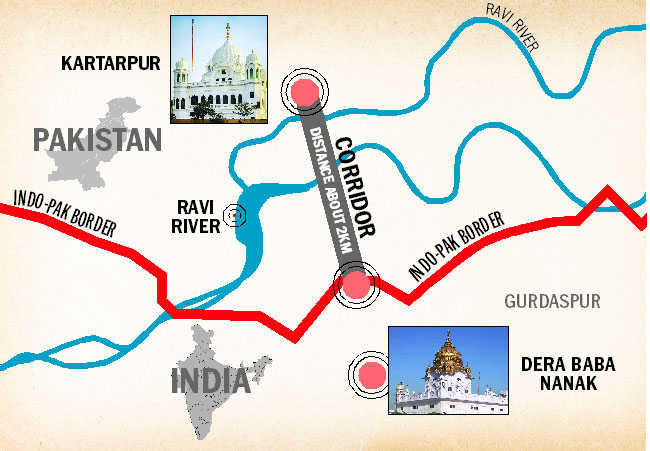 Why in News?
India and Pakistan exchanged letters on Thursday, committing to build the required infrastructure for visa-free direct travel by Indian Sikh pilgrims
Background:
The Kartarpur Sahib corridor was first proposed in 1999 when Prime Minister Atal Bihari Vajpayee took a bus ride to Lahore, as a long-standing demand from the Sikh community for easy access to the revered shrine across the border where Guru Nanak spent the last 18 years of his life.
Highlights:
Indian Sikh pilgrims to Pakistan's Kartarpur Sahib gurdwara, allowing them to mark the 550th Birth Anniversary of Guru Nanak Dev in November 2019

pilgrims will traverse on the Indian side from Dera Guru Nanak Dev in Gurdaspur district directly to the border and from the Pakistani side of the border directly to Kartarpur Darbar Sahib Gurudwara.

Prime Minister Imran Khan will lay the foundation stone for the corridor on the Pakistani side on November 28.

Pakistan to recognise the sentiments of the Sikh community to develop a corridor with suitable facilities in its territory to facilitate easier access and smooth passage of Indian pilgrims throughout the year.

centre for interfaith studies" in Amritsar, University Chairs in U.K. and Canada for the study of Guru Nanak, and a railway train connecting holy sites for the community.
India, Pakistan commit to Kartarpur corridor
Reviewed by
The Hindu Current Affairs
on
November 23, 2018
Rating: